Our Mission is to SERVE First

In 2016, Brent Brown and Joan Curtis from Edmond, Oklahoma founded MVP Insurance on the biblical principle that we SERVE AS IF we are serving the Lord, not man therefore service is at the heart of everything we do.  We believe our greatest asset is the relationships we build with our clients.  Serving first means making sure your needs are met, and you know what you need moving forward before we ever take a dollar for a policy.
We help you understand what you need!
Our hands-on service approach allows us to help your insurance policies to fit your life. Once we issue your policy, you are not forgotten. Here at MVP Insurance, we offer a superior level of service and will be with you every step of the way to answer questions, assist you with claims, and more. We love to educate our clients, and we are here to help you when "what if" happens!
Evaluate and Educate – another way we SERVE
Building relationships starts with gaining your trust, and we know that an educated buyer is a loyal client for life!  We are committed to earning your trust by helping you understand what you are currently paying for and helping you evaluate your needs!  Let us review your coverage with you, even if you are not our client! Please contact us today for a breakdown of your current policies!
Your people are the "WHY" in why we do what we do at MVP Insurance!
Serve wholeheartedly as if you were serving the LORD not people
How we interact with our community
We love being active in our community!
MVP Insurance are members of many associations in Oklahoma City including:
Edmond Chamber of Commerce
NW OKC Chamber of Commerce
OKMAR
Oklahoma State Chamber of Commerce
Brent Brown is active with Jr. Achievement and in the Northwest Oklahoma City Chamber of Commerce Leadership as a Board Member. Brent was awarded the NWOKC Young Professional of the Year in 2018, as well as MVP Insurance was a top 3 Nominee of the Vision Award Small Business of the Year in 2019 and a graduate of Leadership NW.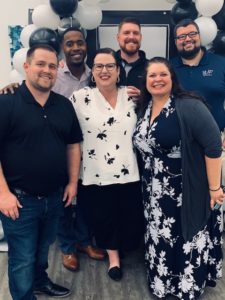 Through the Edmond Chamber, Joan Curtis is a graduate of Leadership Edmond Class of XXXII and awarded the MVP of Class of XXXII, from which the name MVP originated. Joan is a small group leader at Victory Church Edmond and a servant leader/mentor with Beautiful Restoration Inc., a local Christian nonprofit.
Blythe Donovan is a Sr. Producer/Sales Team Lead. She is involved with REAL Ministries as a leader and helps facilitate a Divorce Care group at St. Monica's Catholic Church in Edmond. Blythe is a contributor to the OKC Mom's Blog and founded Joyfully Abundant Ministries, where she encourages women to learn to seek joy in all circumstances. She is very involved in the NWOKC Chamber, and we are proud of Blythe for being awarded the Ambassador of the Year 2019.
Casey Helland, our Service Team Lead, is the founder of Katie's Crafts for Special Needs, a group dedicated to helping families with financial assistance for much needed medical equipment.
Both Brent and Joan, as well as other staff members, are actively involved in several different Oklahoma City metro churches.
Do you understand what your policy will do at the point of claim?  We do!